As marketers, the first rule we all learn is that the customer is key. Nowadays customer expectations are higher than ever. Businesses are stepping out of their way to deliver excellent service and great customer experiences. Luckily, the customer journey mapping lays out the process of research and analysis that aids marketers to look in the right direction and learn about their customers and their touchpoints.
Until you've finished reading this blog post, you will have learned:
What are fundamental customer journey frameworks?

What is

customer journey mapping

and why is it important?

What elements does the

customer journey

focus on?

What are the tools that can be used to visually represent your company's

customer journey

?
What is customer journey mapping?
According to Salesforce's explanation of customer journey mapping, it is the process of creating a visual story, a map of all the interactions between a brand and its customers, in terms of touchpoints and channels throughout all the phases of the customer journey, from awareness up until after-purchase care.
What is the difference between touchpoints and channels? An example of touchpoints could be landing page pop-ups; app notifications; exchange of comments, likes and reactions on social media platforms; or confirmation emails. Examples of channels are social media (Instagram, Facebook, Pinterest, TikTok, Twitter); email; search engine; and more.
Why is customer journey mapping important?
Not only does visualising the customer journey help understanding the customer on a deeper level, but it is also crucial in optimizing the customer experience. 
For example, by mapping out the current customer journey, by defining the touchpoints and the channels that are used to interact with the customers at each phase in the sales funnel, you have a clear overview of each channel' and the marketing activity's purpose. 

Additionally, by defining the ideal customer journey, you get an understanding of what could be done better, what channels could be introduced, or where in the journey should the customer be supported better by the brand.
Customer journey frameworks
The customer journey mapping process starts off by defining the customer journey framework to be used as a base. The framework displays specific phases in the buyer journey, which tend to be slightly different for each framework. We will discuss next the frameworks you should be most aware of and why are they the best to use.
The Smart Insights RACE Planning Framework
As defined by Smart Insights, the RACE planning framework is built on five customer journey phases:
1. Reach (brand awareness): the brand seeks to maximize reach through various tactics, while the customer just becomes aware of it as a result;
2. Act (lead generation): the brand encourages interactions with the potential customer, while the customer becomes more interested to seek information about the brand;
3. Convert (conversion to sale): the brand is motivating the customer to purchase and facilitates the process and that's when the conversion moment occurs.
4. Engage (long-term engagement): the brand seeks to develop a long-term relationship with first-time customers to build customer loyalty and recurring purchases, while the customer keeps engaging with the brand along different touchpoints and remains loyal to one business.
To learn more about the RACE Planning Framework, please read the "Introducing The RACE Framework: a practical framework to improve your digital marketing" article from Smart Insights that explains each phase in more detail.
As well, you might find interesting the "How Does the RACE Framework Improve Your Marketing Strategy?" post on the Digital Marketing Minor Blog.
The Google Customer Journey Framework
Very similar to the RACE planning framework, the Google framework focuses on four stages:
1. See (awareness): the customer is still passive and unconscious; 
2. Think (consideration): the customer considers options; 
3. Do (purchase/conversion): the buying moment;
4. Care (loyalty): the customer repeats the purchase and spreads the word.
If you want to know more about the Google Customer Journey Framework, we recommend following the digital course "The fundamentals of Digital Marketing" offered by Google Digital Garage where all of these concepts are more detailly explained. .
Although the RACE framework is used as the basis for the Digital Marketing Minor, the Google framework is also often used by companies in their business and marketing strategies. Therefore, having knowledge of both will definitely be of great use in your future career.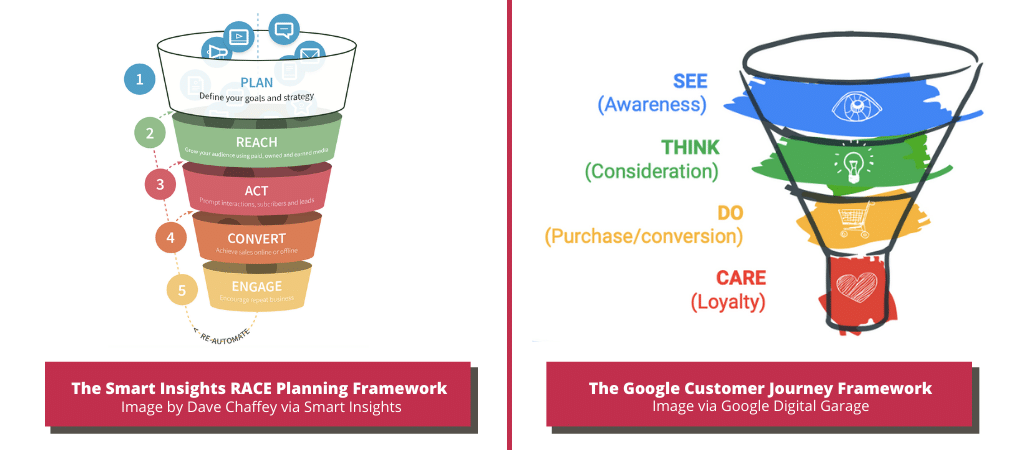 Customer Journey Mapping Elements
Before we move on to the kind of elements you should be taking into account when developing your customer journey maps, let's first assess the importance of detailed and accurate buyer persona development. Your buyer's challenges and goals should serve as the base. To refresh your memory on this topic, take a look at our "Drafting Personas For Your Digital Marketing Plan" blog post.
I've mentioned earlier that the customer journey displays channels and touchpoints. However, more aspects need to be considered before the customer journey can truly add value to your strategy. 
Here is a list of aspects to be considered in your customer's journey:
The phase of the customer journey.

Your customer journey should be structured into the journey phases: Reach, Act, Convert, Engage. 
Persona.

You should clearly specify what persona does the journey relate to. You can use different colours for each persona and an icon to show their journey across phases, channels and touchpoints. 
Current customer journey.

First, display the

customer journey

as it is at the moment. What channels and touchpoints does the company use to reach their customers in each phase?

Environment.

For each phase, specify the appropriate environment of channels and touchpoints: online or offline, or both.

Touchpoints.

Specify the interactions within channels, the engagements between the brand and customer. 

Channels.

Specify the channels used to reach the customer persona within each phase.

Actions.

What actions are expected from the customer per channel and touchpoint? Or in other words, what kind of customer actions will the brand's marketing activities result in. For example, Instagram posts can result in engagement that takes the form of likes, shares, comments, etc. 

Customer feelings.

Depending on each phase and touchpoint, define the customer feelings. Are they enthusiastic, thoughtful, charmed or sad?
Gap Analysis.

After having determined the current

customer journey

, define what is possibly missing. In what phase does the customer need more support? Are there both online and offline channels covering a specific phase? Are the touchpoints in line with the customer's goals and pains? What other channels or touchpoints could be taken advantage of? Determine relevant opportunities and specific points of improvement that correlate to your marketing objectives and strategy.
Perfect customer journey.

Now that you know what you'd like to improve, visualise the perfect

customer journey

by combining the current journey and the results of your gap analysis.
Customer journey mapping: tools
Once you know what aspects should be addressed when designing your customer journey map, you should have a clear idea of how it should look in terms of layout and structure. There are specific online (free) tools to help you save some time. In this post, we will discuss the three best tools for customer journey mapping from the experience of a former Digital Marketing Minor student.
Miro is a great platform for mapping and digital teamwork. Forget Google Drive, Miro is the next level. It is convenient, fun and delivers endless possibilities. You can create your own boards and templates, or you can use and adjust the ones offered by Miro.
The Customer Journey Map template from Miro is free to use, can be accessed by all group members at once, is fully adjustable and just fun. P.S. This is my personal favourite!
This tool and template can be perfect for those that would like to have a fully personalized template and include all the aspects mentioned earlier in this post. 
When you've finished it, you can present it directly from Miro, or you can easily export it!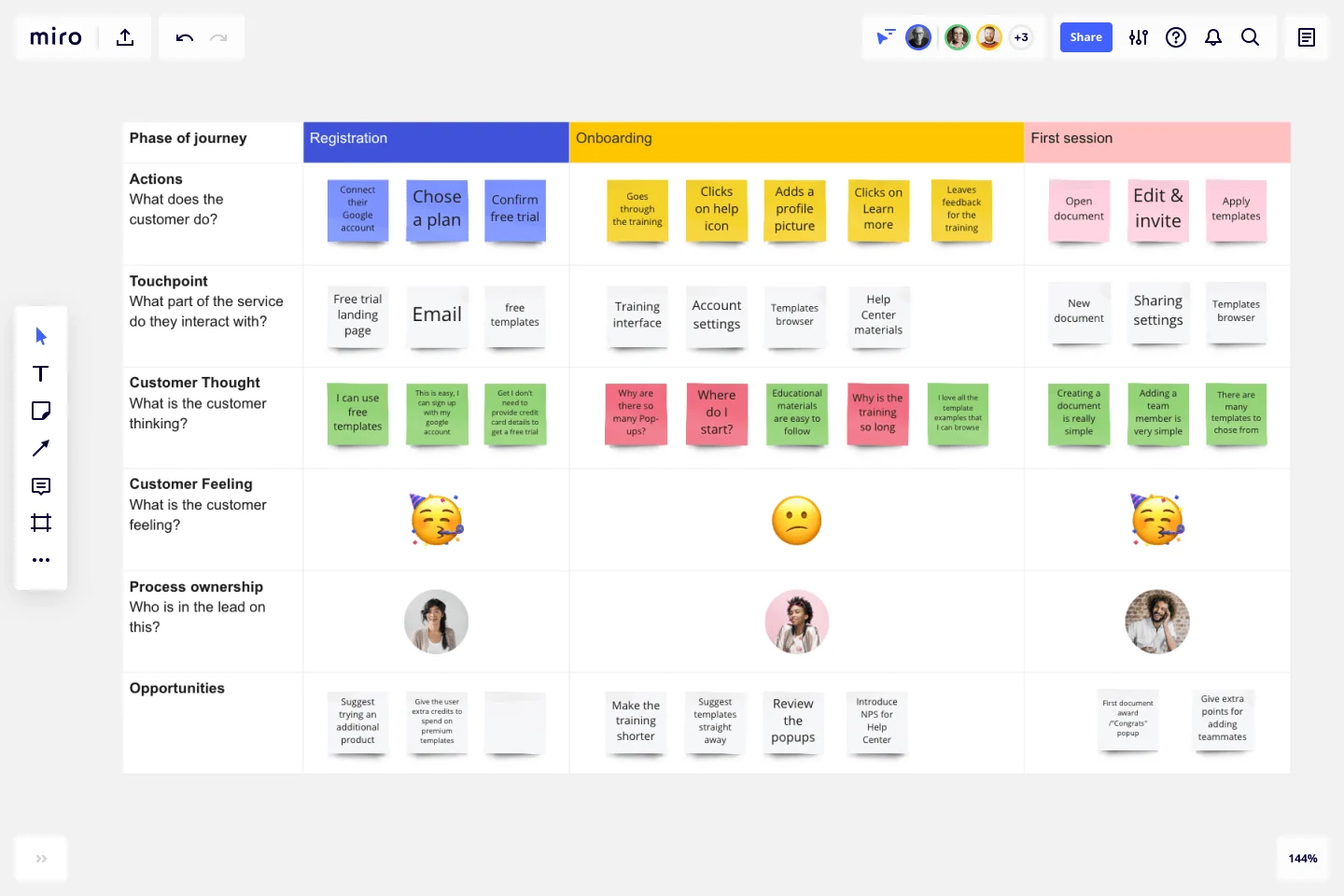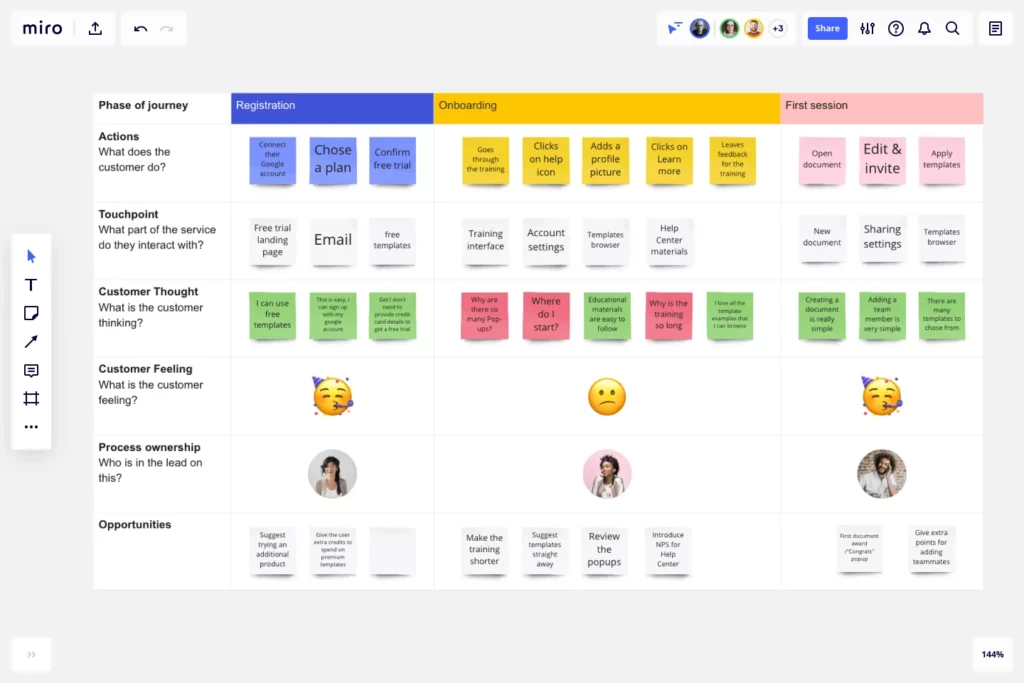 Uxpressia is a great tool to get started with customer journey mapping. If you still have no idea how your customer journey map should look, Uxpressia will give a clear understanding and a starting point. 
Similar to Miro, you can use a pre-designed Customer Journey Map template or you can design your own. Nevertheless, the layout and design are not fully customisable. You can add sections and adjust titles or text, but you are still limited by the template.
As opposed to Miro, in Uxpressia you cannot give access to fellow group members. 
Finally, you can easily export the map.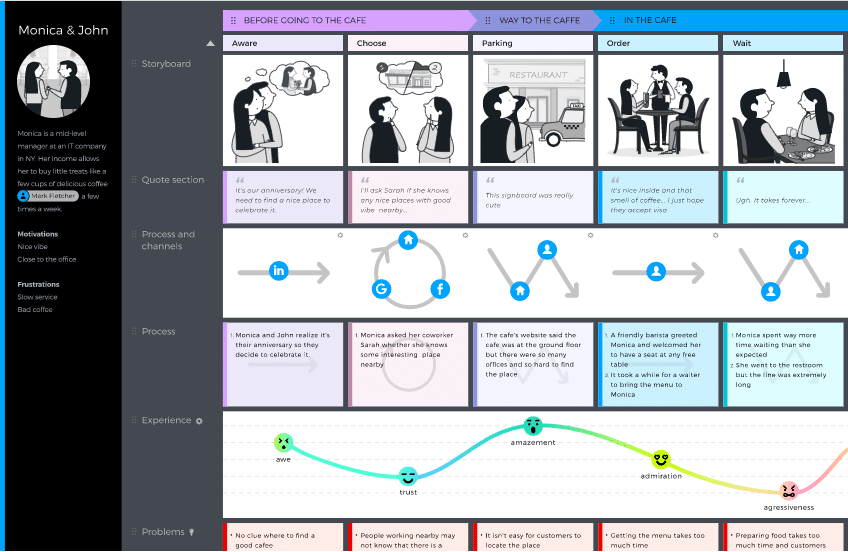 The LucidChart tools are very similar to Uxpressia and Miro. It is slightly more difficult to use until you get used to it and its all possibilities, but it makes customer journey mapping quite easy after all. 
The board is fully customisable whether it's the customer journey map template or a blank document. The board can be shared with group mates. 
Still, it is not as intuitive for customer journey mapping as Uxpressia and Miro. Finding the right template can be challenging, and adjusting it to the right standards can be time-consuming.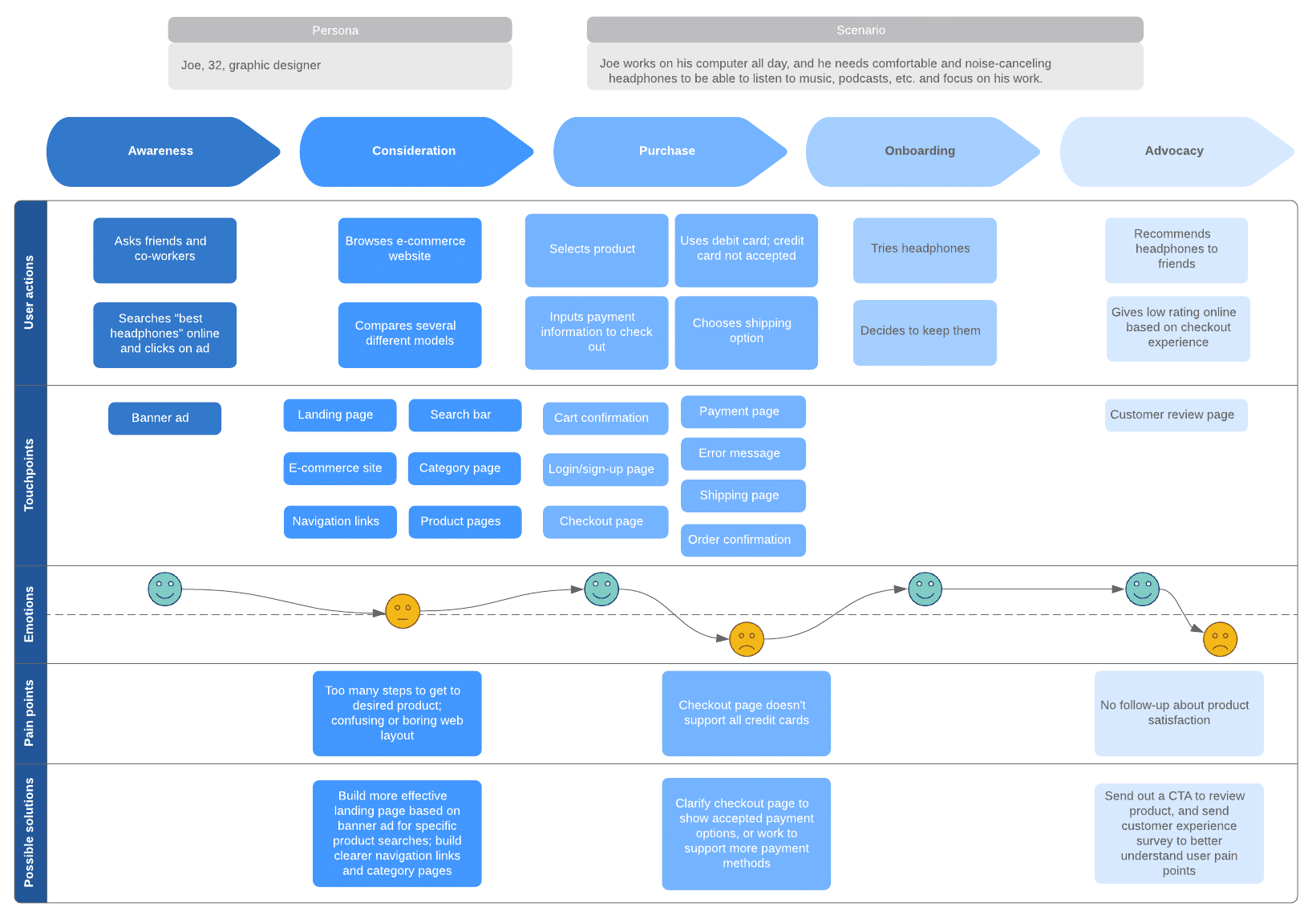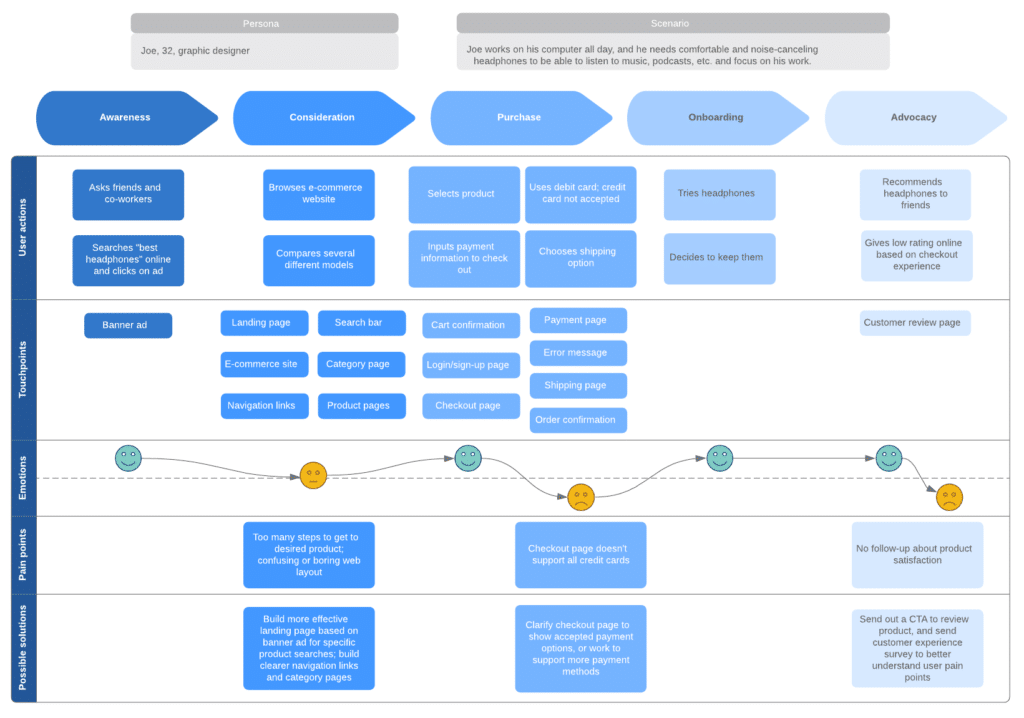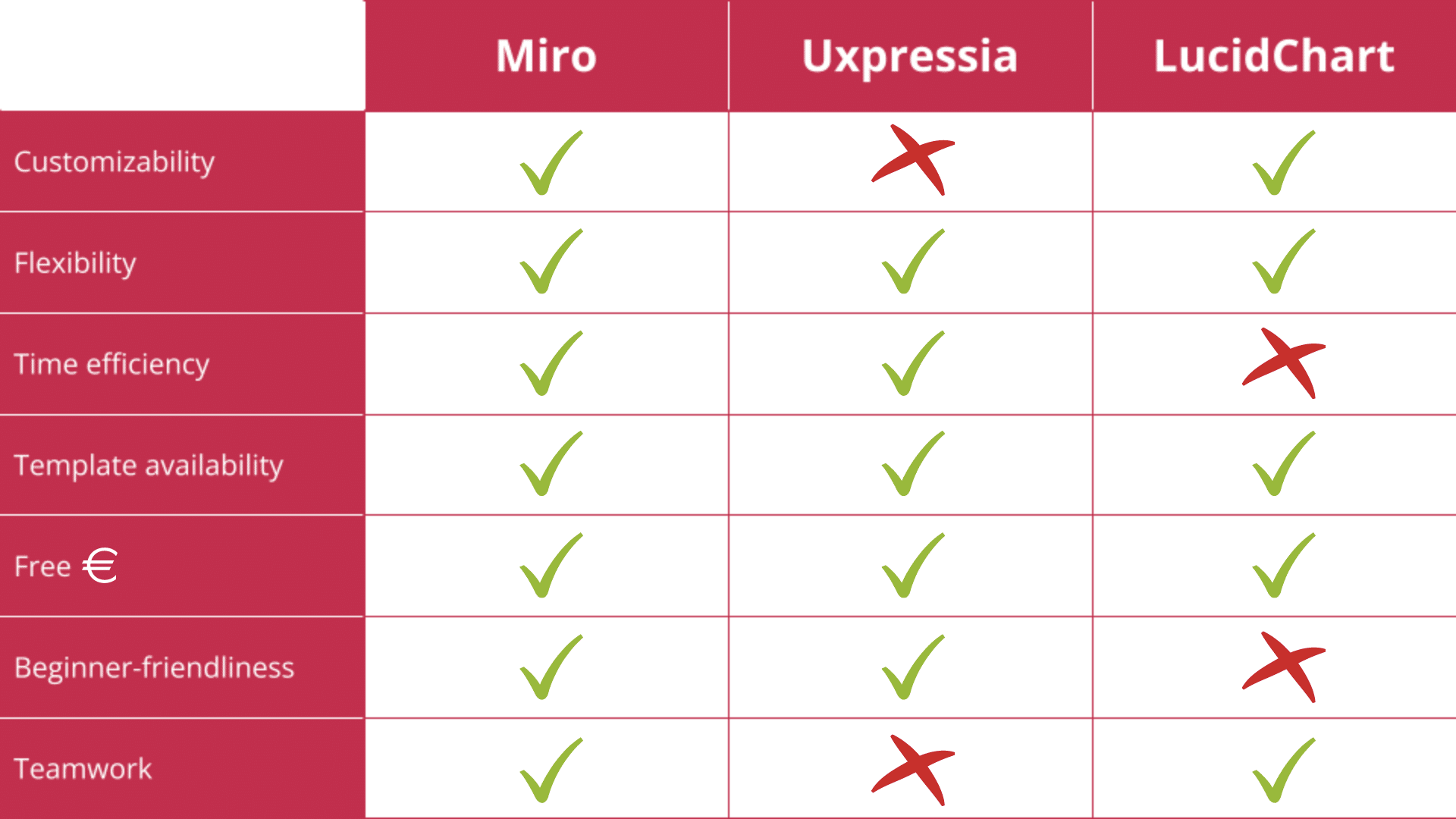 Would you like to explore more customer journey mapping tools? Take a look at this overview offered by Mopinion where they highlight 20 of the best ones.
Let me share with you some final thoughts, and bear in mind that I've heard these myself when teachers reviewed my attempt at customer journey mapping. Discover some tips & tricks that might help you with your customer journey mapping:
1. Use colours to define strong and weak points in the gap analysis. For example, use green colours to highlight strong points in your gap analysis and red colours for the weak ones. Explicit content is very important, but being able to tell the strong points and weak points in your customer journey map at a glance, can open new perspectives. I bet you're often told to take a step back before you can take one ahead. Well, it works the same way here!
2. Make sure the board is easily adjustable at all times because you'll improve it constantly. You might think you got an accurate overview of your customer journey map from the first try, but believe me when I tell you it's not over yet! Your map draft will be extensively reviewed by your teachers and company supervisors, so make sure your map is still editable throughout the entire process. As well, as you keep working on your Digital Marketing Plan, you'll get a more in-depth perspective on the process with each assignment. You can apply that to your journey. So, don't leave it out, but make it part of the picture instead.  
3. Think from the customer's perspective, not the company's. We are prone to mapping out the customer journey in connection to the marketing activities implemented by the company. Instead, we should pay more attention to the marketing activities that customers engage with at each stage. We strongly encourage primary research and it can take forms of observations, interviews, surveys, or others. 
We hope you find this post useful and applicable to your Digital Marketing Plan. We would also love to hear back from you with any comments, suggestions for improvements or questions. Happy learning!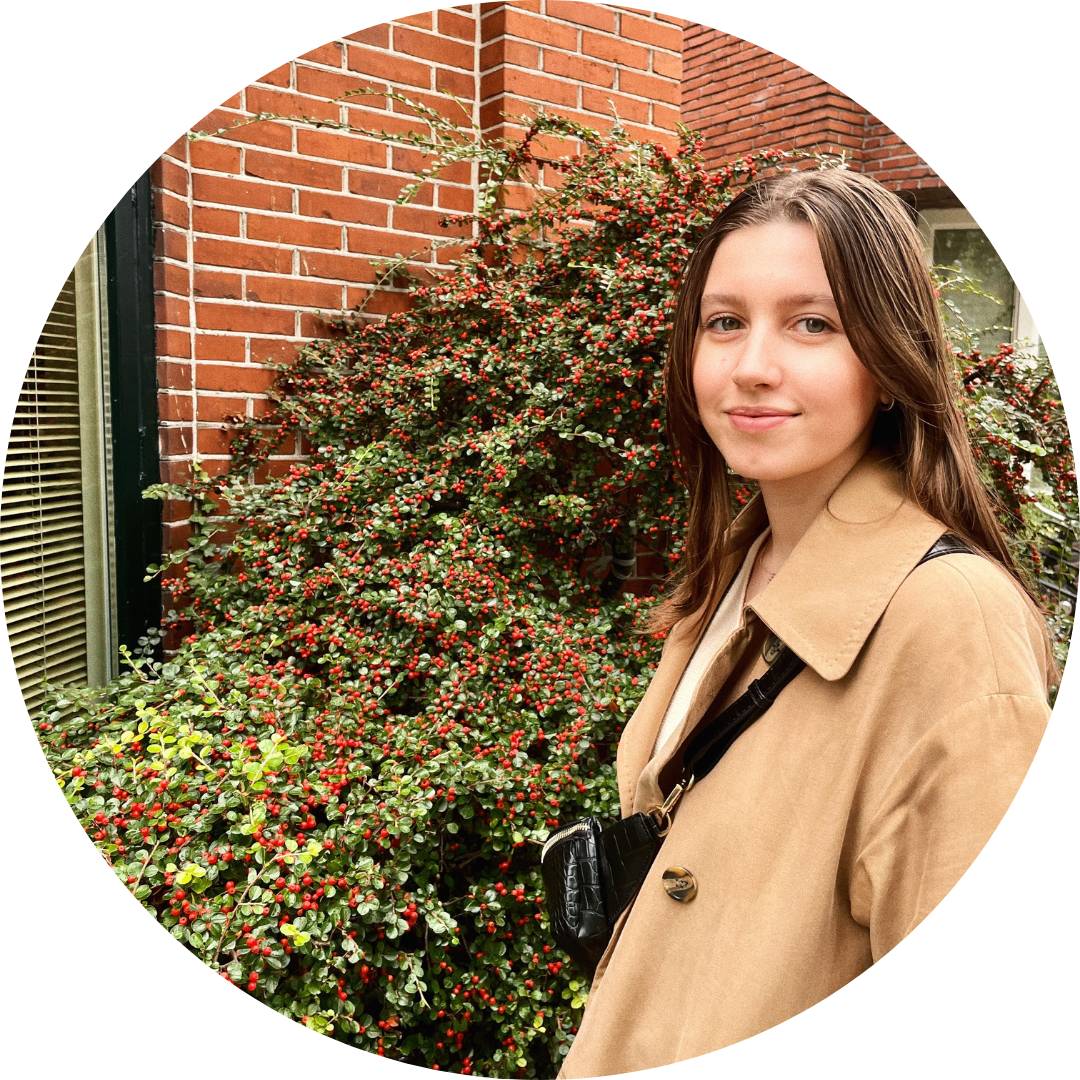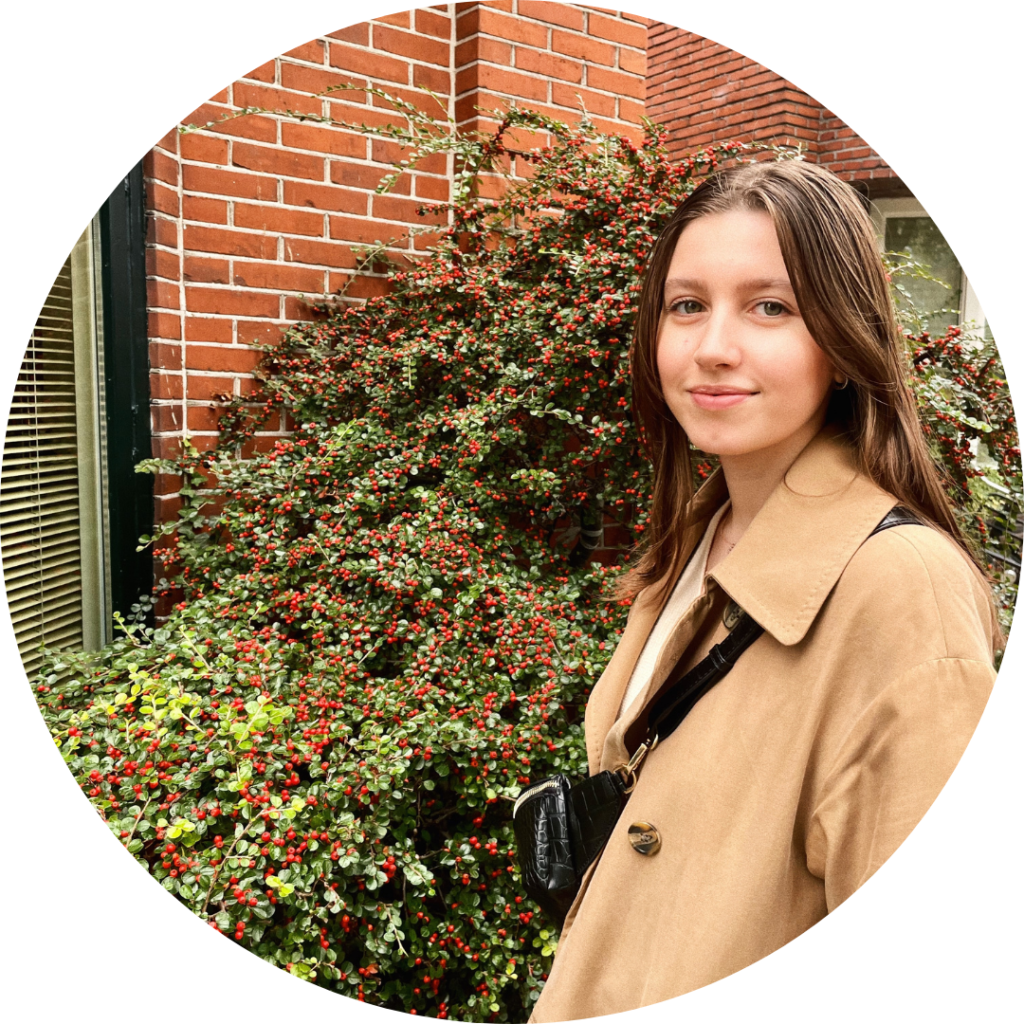 Milena Bursuc, Digital Marketing Minor alumni
I am a Marketing enthusiast with great passion for strategic thinking, strong brands and digital environments.