Content topic clusters and pillar pages are important concepts when it comes to SEO ranking and effective content marketing strategies. Yet, they remain to be confused with types of content, post topics and campaign topics. 
To be more accurate, structuring your (website content) into pillars and clusters, you provide an intuitive structure that makes sense to your reader (customer) and is easily accessible by search engines. 
In this blog post, we will talk in more detail about:
How are

pillars

and

 clusters

connected with SEO and content marketing?

What are

pillar pages

and

topic clusters

?

How are

pillar pages

and

topic clusters

structured?

How to develop

pillars

and

clusters

?
Pillars and clusters: content marketing and SEO
Understanding pillar pages and topic clusters can be tricky when you don't know a little bit of context. So, first, let's dive into some SEO and content strategy basics. 
With regards to the content marketing strategy, companies should clearly define for themselves the topics they want to be known for online. 
For example, let's address this topic in the context of the Digital Marketing Minor. For their content marketing on their website they want to be known for digital marketing related sub-topics: SEO, SEA, Social Media, Email Automation, Artificial Intelligencec, Prototyping, etc. This only makes sense because this is their perceived expertise. 
Now, with regards to the SEO strategy, the companies need to ideally be ranking for keywords within the topics that they want to be known for. 
For example, within the email automation sub-topic, desired keywords are defined via keyword research and can be: "what is email automation"; "email automation basics"; "email marketing", etc. 
So, normally, if a company wants to rank for specific keywords, one of the main things they have to do is to create as much content as possible for desired keywords, on the desired topic. 
Nevertheless, one of the main requirements for an effective SEO strategy is internal structure. Creating lots of content can become chaotic, and along the way, it can become messy. 
When creating pillar pages and topic clusters, the content on the website is linked into a semantic relationship. This setup sends signals to search engines that there is real breadth and depth in the content, which gives the website authority on the topic.
Therefore, creating pillar and topic cluster pages can help with building the right internal structure, it will facilitate creating the right content within the content marketing strategy and it will increase ranking for desired keywords.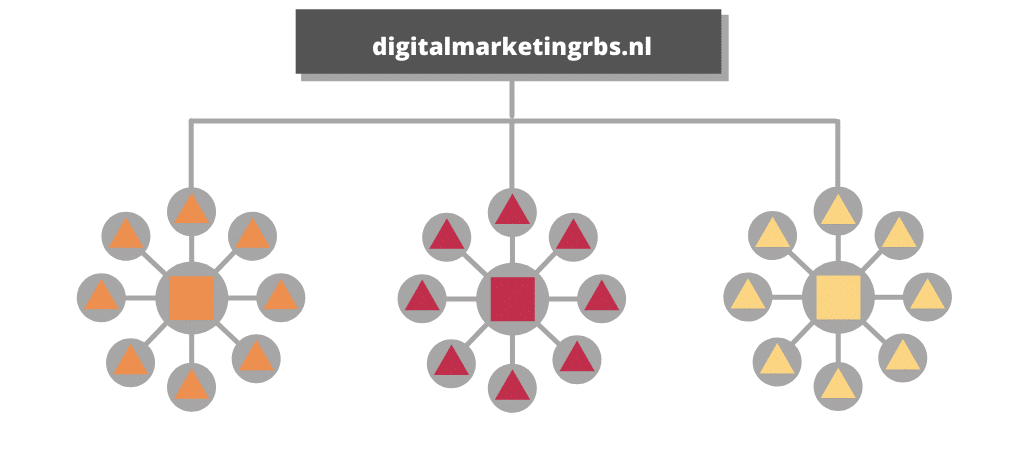 What are pillars and topic clusters?
I hope we now understand how are concepts such as SEO, content marketing, pillars and clusters connected. Now, let's clarify what exactly are pillar pages and topic clusters. 
Pillar

– the page that gives an overview of all other pages about a specific topic. Pillar pages are generally broad and link to multiple topic cluster pages.

Topic cluster

– a page that is focused on a specific question within the broad topic that your company wants to be known for and links back to the main pillar page.
Pillar pages and topic clusters are fundamental to your content marketing strategy. Based on the pillars, you create topic clusters and based on the topic clusters you develop blog posts, social media posts, video content, campaigns, etc.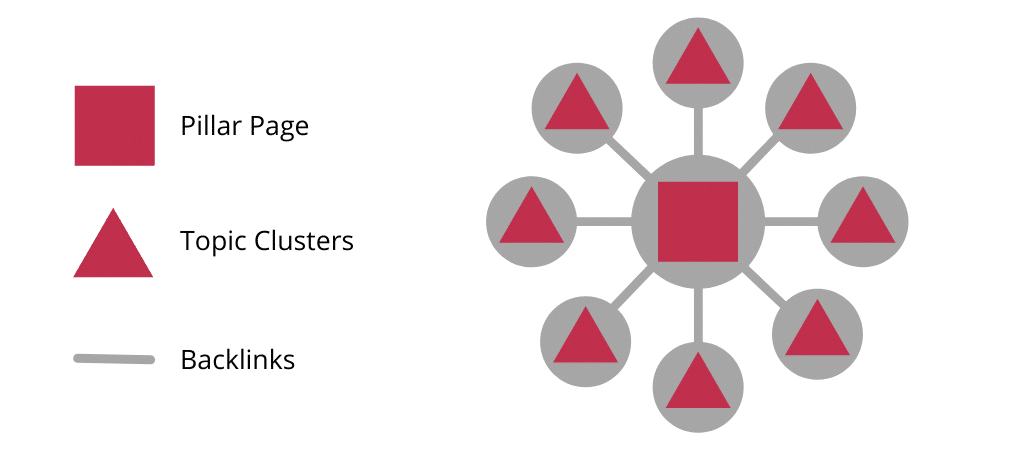 How to structure pillar pages and topic clusters?
Normally, there is at least one topic that a company wants to focus on. Often, there are more topics that the company instinctively addresses in their content marketing strategy. 
To create pillar pages, you need to think of all the general topics that the company addresses or wants to address. 
Let's take Digital Marketing Minor as an example. In terms of pillars, we can highlight topics like: "customer journey"; "SEO"; "UX design"; etc. 
To create topic clusters, you need to think of all the specific questions within each pillar. 
For example, within the "SEO" pillar, you can define the following clusters: "keyword research"; "on-page SEO"; "off-page SEO"; "technical SEO"; "best SEO practices"; "common SEO mistakes"; etc. 
Now, for each topic cluster, you will be developing a blog post page. For each pillar, you will develop a pillar page where you will explain the core topic in general and you'll link all the cluster topic pages back to it. 
The pillar page can be organized as a list, for example. Let's take "SEO" as a core topic. When developing a pillar page for this topic, you can create a step by step guide on how to reach an optimal SEO strategy. Under this circumstance, make a list of all the blogs that you've written on SEO and link them to the pillar page. 
Want to see some pillar page examples? Check out this blog post from HubSpot that explains in more detail the pillar page concept, how it should be structured and some examples of it. 
How to create pillar pages and topic clusters?
According to SEMrush, there are specific steps you can take to get started with pillar pages and topic clusters. Here's an overview: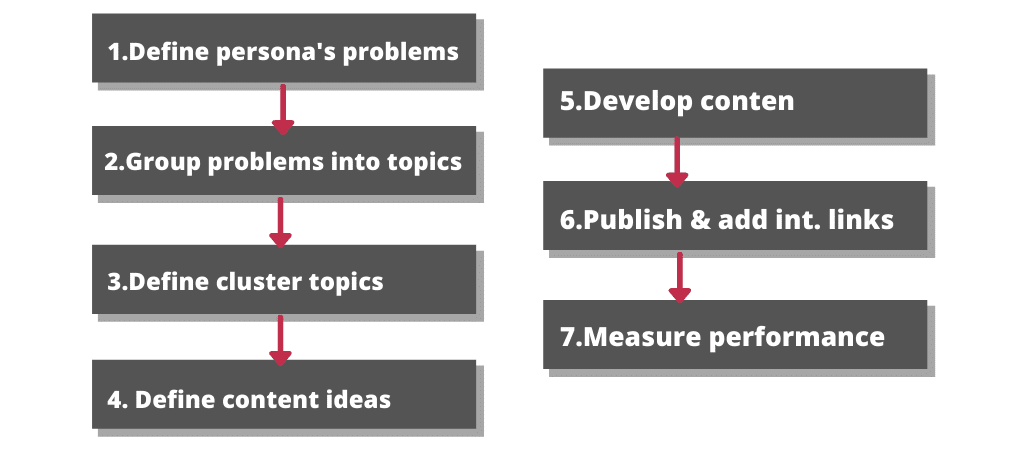 Define persona's problems. Define five to ten core problems, pain points or goals that your persona has. This can be done via primary research: one-to-one interviews; observations; surveys, etc.
Group problems into topics. Group the problems into broad topic areas. Decide on your core topics. 
Define cluster topics. Define your clusters topics based on pillars. Define for each core topic the subtopics to be addressed using keyword research. Keyword research will help you define the questions that your audience has within a specific topic, and which questions to prioritize based on keyword volume and SEO difficulty. 
Define content ideas. Map out content ideas that align with each of the core topics and corresponding subtopics.
Develop content. Create content. 
Publish & add internal links. Publish Content and Add Internal Links to Supporting Topic Clusters. Publish blog posts and link them back to their pillar pages. 
Measure performance and constantly update.
If you are interested to know more about pillar pages and topic clusters, I recommend accomplishing the Content Marketing Certification Course from HubSpot Academy. 
Do you want to learn more about SEO? Read our "Top 3 SEO tools and how to use them with examples" blog post to know more about SEMrush, Moz and UberSuggest by Neil Patel; and "SEO checklist: Beginner's guide to SEO strategy" blog post. 
I hope you find this blog post helpful and the concepts of pillar pages and topic clusters are clearer now.  If not, let me know any of your questions or feedback!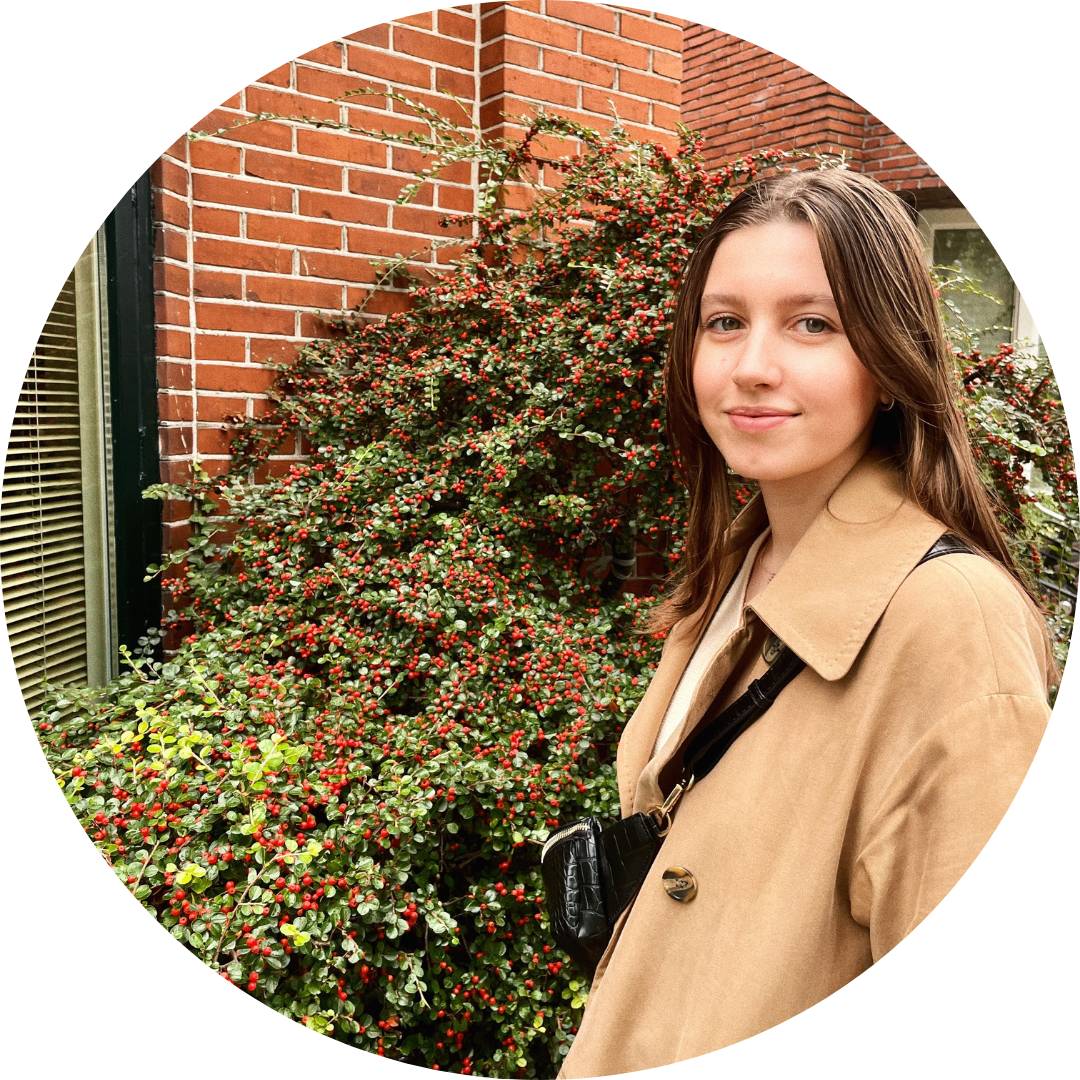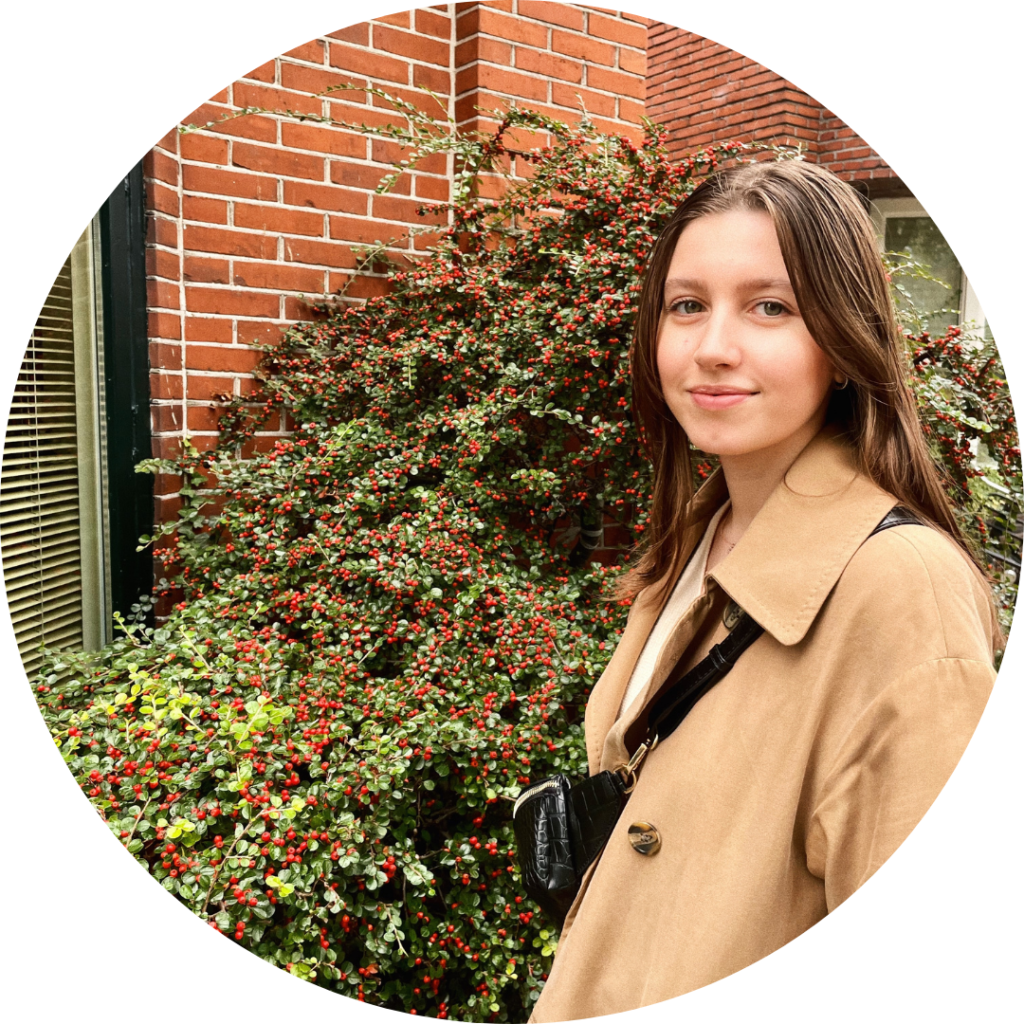 Milena Bursuc, Digital Marketing Minor alumni
I am a Marketing enthusiast with great passion for strategic thinking, strong brands and digital environments.